wedding~event flowers
Sunapee, NH to Camden, Maine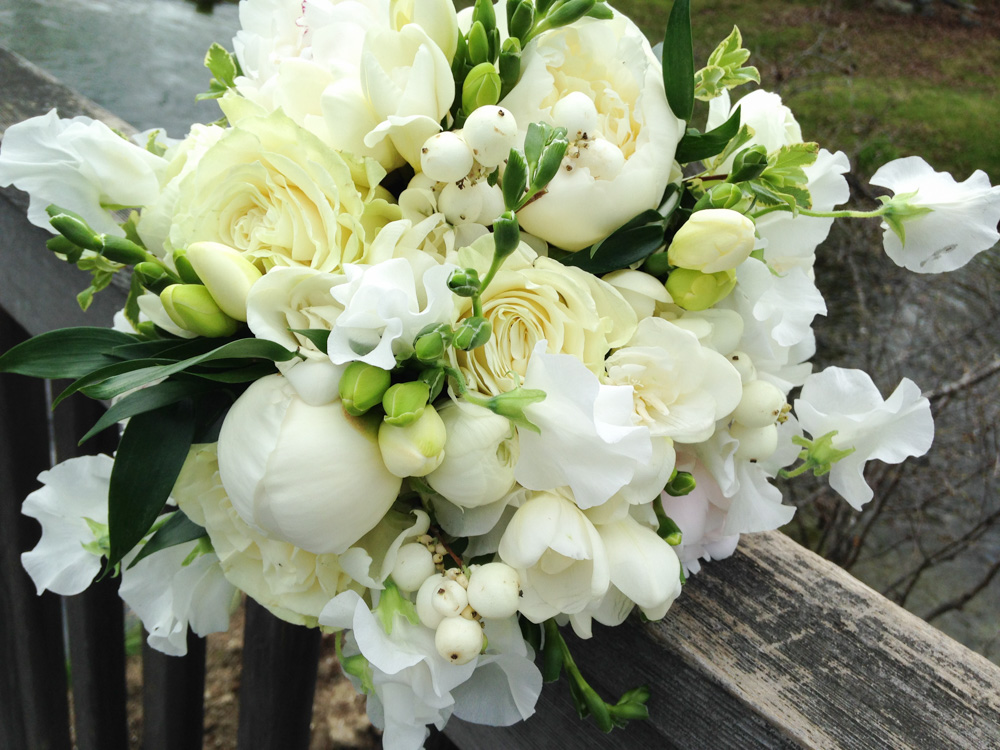 We believe in fairy tales… fairytale weddings, that is. We also believe in passion. Let's face it – passion changes everything. You'll soon feel within a fleeting moment of meeting with us that we're pretty passionate about what we do and with that, we bring to your wedding true originality with decades of experience, talent and skill…all essential elements, absolute musts for soulful, sensational and personalized wedding floral design.
Having serviced the Lake Sunapee, NH area for the past 15 years while stretching the boundaries into the Adirondacks, Massachusetts, and Connecticut on occasion, we are now adding our services to the Penobscot Bay area of Maine. A small studio is in place in Camden, Maine which will be our hub from which we will expand into new territory.
As fussy flower snobs we opt out of designing with the "pedestrian"- carnation, snapdragon, lily – look. With the world's flower farms at our fingertips offering the most delicious banquet of species, we specialize in offering a style, whether simple or sophisticated, that we guarantee will be a sensation.
rOMANTIC ~ RUSTIC ~ Refined
flowers, like women… each a style their own.
Romantic bouquets – looks like a true love letter feels – soft and free, flowing and poetic in its design of delicate petals – most often muted in color or monochromatic. Vines trailing to and from and holding you captive within it's beauty.
Rustic bouquets – a bit unfettered like being on the trail – a gorgeous blend of textural material and shapes representing nature in her more organic state.
Refined bouquets – more contemporary in feeling – heavily stylized with strong lines and attitude. Each botanical holds a leading role and speaks with confidence.
Floral design should set the mood. Bridal bouquets should reflect the bride, accent her style, her wedding gown, her feminine self.
"I knew from the moment I met Mauli that I was in the best of hands. She was so easy to work with and truly listened and then took it to the next level. Her asthethic and imagination is so natural and whimsical, it is easy to see here passion in her creations." Katie
"Mauli provided us the most spectacular flower arrangements, decor and service.Not only does she have amazing talent, she puts her whole heart and soul into designing the day. It is more than just the flowers, it is the whole event space. Mauli's ideas do not come from the pages of Pinterest." Deb
"Oh my God, it is beautiful. I can't wait to hold it." Emily
"I cannot recommend Mauli enough, she is, hands down, the best designer in the area. Mauli was wonderful providing ideas that suited our taste, color palette and budget. On the wedding day the flowers exceeded my expectations, I had never seen centerpieces like this before— each bouquet so intricate. She is truly a master of her craft, with a great eye for design, knowledge of flowers, awesome personality and versatility." Rebecca
"Mauli is a creative genius and went out of her way to accommodate me as the mother of the bride. She was sensitive to our budget needs without hampering the quality of her work." Cathy